An electric muffle furnace (sometimes a re-type furnace in history) is a furnace in which the target material is isolated from the fuel and all combustion products (including gas and fly ash).
Although the "muffle furnace" or "distillation furnace" is still in use today, it doesn't really mean the same thing as it was done in the early 20s for centuries, when wood and coal were the main way of soaking furnaces.
Features of muffle furnace
The main feature of the muffle furnace is that it has an independent combustion chamber and heating chamber. The "dehydration tank" is an airtight chamber where the material to be heated is placed. In the "old age", this is very important because otherwise the byproducts of combustion will contaminate the heating process. However, with the invention of high-temperature electric heating elements in the early 1950s, most furnace manufacturers quickly converted muffle furnaces to electric furnaces, and heating by-products were negligible in most processes. Electric furnaces are heated by conduction, convection, or blackbody radiation processes that do not produce combustion by-products. These designs can now better control temperature uniformity and ensure that the heated materials are isolated from combustion pollutants.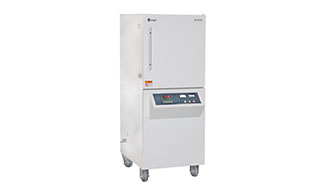 Muffle Furnace
How does the muffle furnace work?
For modern electric furnaces, this means that heat is applied to the combustion chamber through induction or convection through a high-temperature heating coil inside the insulating material. The insulation material effectively acts as a muffle furnace and prevents heat from escaping.
How do you adjust the temperature of the Muffle Furnace?
If the muffle furnace has not been turned on, use the switch to turn it on. Use the arrow buttons on the bottom of the digital reader placed under the door to adjust the target temperature (green number) to the desired temperature.
Application of muffle furnace
Common lab muffle furnaces are called as follows: electric furnace, resistance furnace, Maofu furnace, and box-type resistance furnace. The high temperature muffle furnace is general heating equipment, divided into box furnace tube furnace crucible furnace, muffle furnace for laboratory, industrial and mining enterprises, scientific research units for element analysis and determination and small steel parts quenching, annealing, tempering When heating during heat treatment, the high-temperature furnace can also be used for high-temperature heating such as sintering, dissolution, and analysis of metals and ceramics. The specific functions of the muffle furnace: (1) Thermal processing or treatment of small workpieces in the thermal processing, cement, and building materials industries; (2) Normalizing, quenching, annealing, and other heat treatments for alloy steel products, various metal parts, or Cutting blades such as diamond are used for high-temperature sintering; (3) For quenching, normalizing, annealing, tempering, and heating of carbon steel, alloy steel, high manganese steel, high chromium steel, and other workpieces; (4) Heat treatment of parts, springs, and molds. High-temperature electric furnaces usually reach a temperature of 1800 degrees; (5) drug testing, pretreatment of medical samples, etc.; (6) sample processing in water quality analysis, environmental analysis, and other fields. It can also be used for petroleum and its analysis; (7) Determine moisture, ash, volatile content, ash melting point analysis, ash composition analysis, element analysis. It can be used as a general ashing furnace.